Integration
The Goobi viewer can play a varied role in your organisation and your planning. Its sophisticated templating engine with highly configurable skins gives you a wide range of visual display options and allows you to integrate the Goobi viewer fully into your corporate design.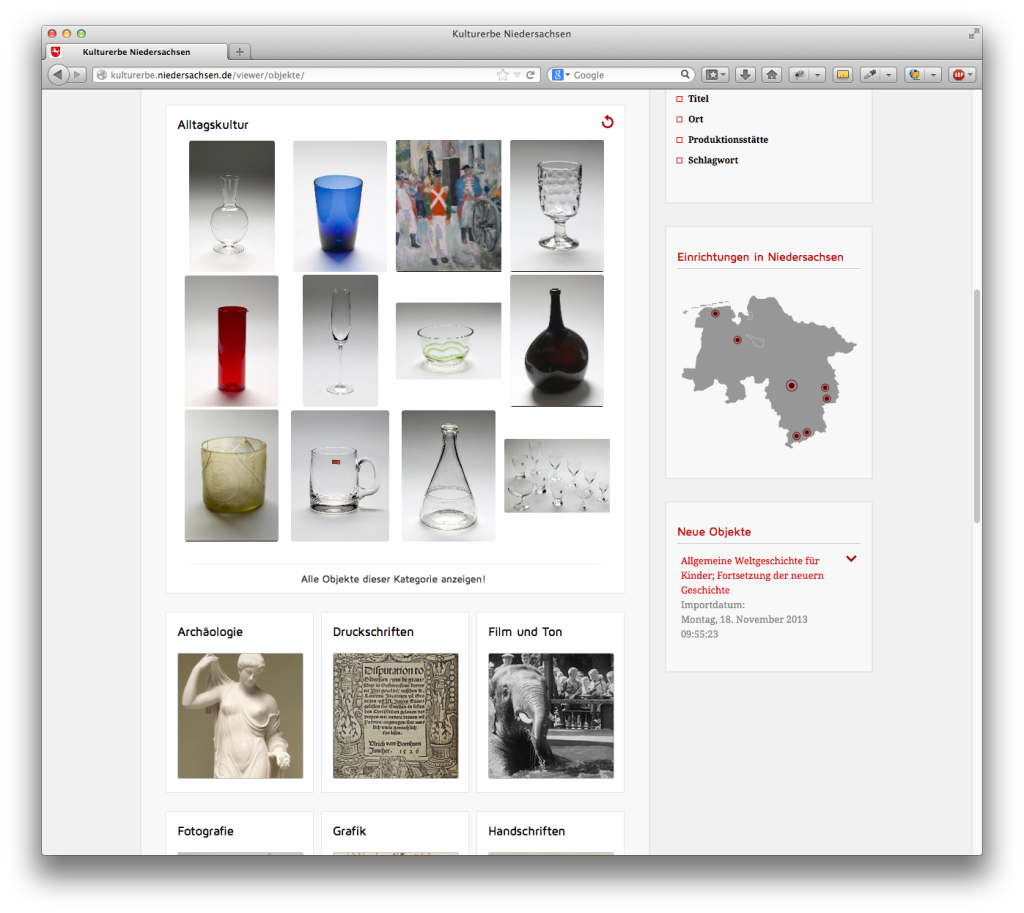 Consistent use of standardised metadata format (e.g. METS or LIDO) allows you to present data from various sources. It can be fully integrated into Goobi, our popular open-source workflow management software for digitisation projects, thus creating a seamless transition from the book to the web presentation.
Stay connected with the Goobi viewer
The Goobi viewer can be integrated seamlessly into your own set-up in order to present your digitised materials. You can make your material available on a range of portals at any time using well-established and recognised interfaces that ensure smooth interaction.
The SRU (Search/Retrieve via URL) interface allows users to submit targeted requests to public databases on the internet. The results of an SRU search are provided in a defined XML format. The SRU standard was published by the Library of Congress and was developed from the Z39.50 protocol.
The JSON (JavaScript Notation) is a highly compact data format that can be used for simple data exchange between two applications. The JSON interface is a standardised text format that works with nested lists. Since it is more compact than XML, it is easier to process and is a very effective way of facilitating live data requests.
These established and important interfaces are integrated as standard into the Goobi viewer. They allow users all over the world to request and access your digitised material, thus ensuring that your data retain their value well into the future.
Based on proven technology
An application that needs to manage terabytes of data and simultaneously handle a large number of users must have a solid technical base. The Goobi viewer uses highly scalable Java- technology and popular open-source components. Apache Solr provides the technical foundation for full-text content searches and is capable of processing even the most complex searches involving a huge volume of data in just milliseconds. Even large numbers of hits can be delivered extremely quickly in seconds and then restricted further using the integrated facetting mechanism.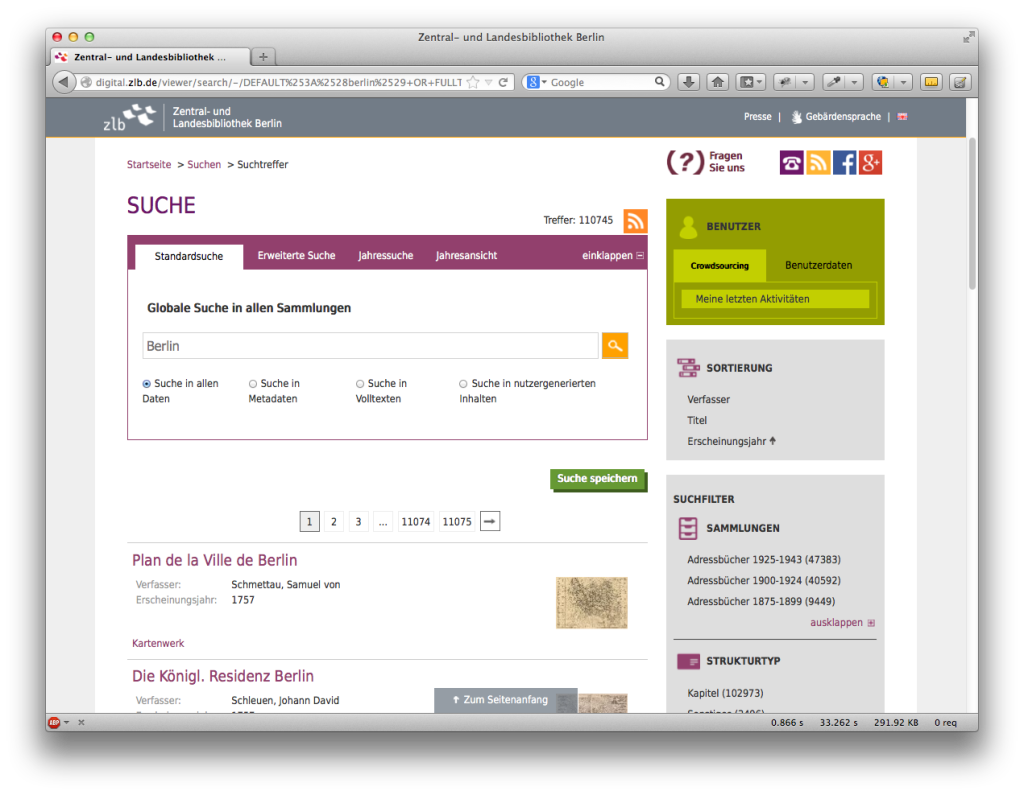 Another crucial component is the integrated content server. Even in our age of large-scale digitisation, this programme library provides a highly effective means of delivering content where the requests are not known in advance and the result has to be generated on-the-fly. Using the intranda software means, for example, that the unnecessary retention of pre-rendered images in certain specified zoom and rotation levels is a thing of the past. As a result, the following are some of the options that are available:
Any graphics format conversions
Zoom and rotation at any level
Integration of watermarks in images (e.g. for copyright notices)
On-the-fly generation of PDF/A files with cover sheet, table of contents and pagination sequences for individual structural elements or entire works
Delivery of PDF files containing stored full texts from an OCR
Live generation of thumbnail views of entire works
No need to keep multiple image derivatives on your hard drive
Interact with your users
With the Goobi viewer, you can offer your users more than just content and functions. You can set up your digital library so that it acts not simply as the central point of contact for all users but also in a way that allows them to play an active part in shaping it and adding to its content:
OpenID authentication without having to create a user account in advance (possible with Google, Facebook and Yahoo accounts to name just a few)
Generation of any number of user groups (e.g. for subscriptions, course materials, etc.)
Crowdsourcing: free allocation of annotations and tags to pages, structures or even coordinate ranges
Crowdsourcing for flexible indexation of pages, structures and coordindate ranges
Option to enter user comments
Crowdsourcing provides users with a simple means of collaborating on the optimisation of the OCR output
Creation of individual book shelves to form user collections
Release your own content (book shelves etc., for other users)
Storage of individual search queries
Generation of individual RSS feeds for collections and searches
Integration of popular open-source components such as Apache Solr
Variety of simple extended search options covering huge volumes of data including full-text search and specific time frames
Licence management for individual content protection
Individual options to adapt the layout to your corporate identity
Standardised data formats for internal storage and exchange with others
Import digitised material e.g. in METS or LIDO format
Submission of born digital material and digital deposit copies
Flexible data generation using integrated intranda ContentServer in various formats
Download individual structure elements or entire works in PDF and PDF/A format
Deliver your content via OAI-PMH in METS, MARC 21, Dublin Core, XEPICUR, LIDO or ESE format
Highly scalable on account of Java technology
Goobi viewer
Latest Release Notes
System requirements
| | |
| --- | --- |
| Operating system: | Linux |
| RAM: | 4 GB |
| CPU: | 4 cores |
| Hard disk: | 40 GB for the operating system plus data storage |
Get the software