IKD: Discussion coding instrument
The discussion coding instrument (IKD) is a time-saving method of encoding and analysing communication processes in organisations one speech act at a time.
The discussion coding instrument is designed to produce a detailed examination of who said what to whom, how and with what functional meaning and how that particular speech act was answered. The time-saving design makes it possible to observe and analyse a larger number of groups and communication situations based on standardised methods. The method is also more user-friendly, with a computer program to facilitate the direct input of data. The program allows uers to translate coded results directly into graphical form. The discussion coding instrument examines two types of communication levels, i.e. the interpersonal and functional meanings of a speech act. The interpersonal meaning of a speech act is evaluated in terms of the two basic dimensions: dominance (submissiveness-dominance) and affiliation (hostility-friendliness). A specific encoding principle is applied in order to reflect other factors such as non-verbal behaviour.
For more information see the Testzentrale website operated by Hogrefe Verlag GmbH & Co. KG.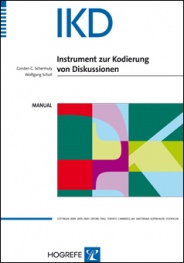 System requirements
| | |
| --- | --- |
| Operating system: | Windows xp or newer |
| RAM: | 512 MB |
| CPU: | Pentium IV |
| Hard disk: | 200 MB free space |
Get the software