Child/parent relationship questionnaire
This efficient and highly differentiated questionnaire was designed to assess the quality of child/parent relationships from the perspective of the child.
It was specifically developed to be easily understood and accepted by children and adolescents and is based on the theoretical assumption that the relationship experiences of children with their mother and father as they grow up create a specific internalised image of that relationship for each parent. These images influence the way the child deals with the psychological and social challenges in his/her development and with potential crises. With 36 items relating to the child's relationship with the mother and the same number for the father, the questionnaire covers a selected range of resource and risk factors in the child/parent relationship, all firmly based on empirically sound research into family psychology. An additional scale is used to collect data on life skills support for parents. Responses are scored in order to produce an overall assessment of the child/parent relationship.
For more information, please see the Testzentrale website operated by Hogrefe Verlag GmbH & Co. KG.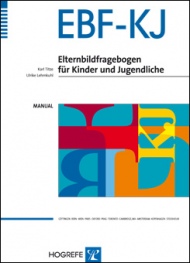 System requirements
| | |
| --- | --- |
| Operating system: | Windows xp or newer |
| RAM: | 512 MB |
| CPU: | Pentium IV |
| Hard disk: | 200 MB free space |
Get the software