AGTB: Working memory test battery for children aged 5 to 12
Overview
AGTB 5-12 is suitable for measuring the working memory function of children between the ages of five and twelve.
With twelve sub-tests, the battery is designed to record data on Baddeley's three components of working memory: central executives (numbers backwards, colours backwards, object span, counting span, go/no-go, Stroop), phonological working memory (digit span, word span one syllable, word span three syllables, pseudo words) and visual-spatial working memory (matrix, Corsi block). The screening version of the working memory test battery contains the following sub-tests: digit span, pseudo words, Corsi block, matrix, object span and numbers backwards. There are two sub-scales for each of the three areas of working memory.
Individual differences in the functional capacity of working memory determine a child's ability to acquire language (including written language at school) and basic arithmetical skills. They also correlate with the incidence of a variety of learning difficulties. Tests to measures a child's working memory capacity can therefore be useful, especially at pre-school age, to assess whether that child is ready for school. It should also be noted that while an impaired working memory can lead to learning difficulties, particularly good working memory skills can also contribute to particularly outstanding cognitive performance, e.g. in terms of the quality of schoolwork.
The working memory test battery 5-12 is adaptive, i.e. the level of difficulty of the tasks is adapted to the child's age (or development age) and can be increased or decreased during the test in response to the child's performance.
Tasks included in AGTB 5-12
Instructions for each task are given acoustically through a speaker. In addition to the monitor for the text manager, an everyday touchscreen needs to be attached to the computer for the child throughout the test battery (the program includes instructions for installation).
Evaluation
A complete evaluation of all the sub-tests and the three working memory components is available immediately after completing the final task by selecting the corresponding button. The user-friendly system automatically calculates the raw scores for the child's age group. The results feed into a profile that clearly shows where the child's individual strengths and weaknesses lie. The profile can be saved and printed out at any time in pdf format. To facilitate the evaluation process, a series of adaptive texts highlighting under-, over- and average performance can be combined to produce an interpretation of the results.
For more information see the Testzentrale website operated by Hogrefe Verlag GmbH & Co. KG.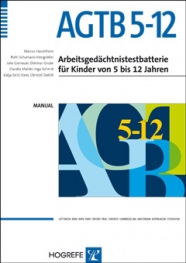 System requirements
| | |
| --- | --- |
| Operating system: | Windows xp or newer |
| RAM: | 512 MB |
| CPU: | Pentium IV |
| Hard disk: | 200 MB free space |
Get the software