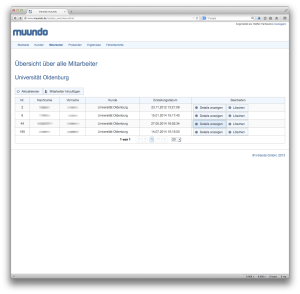 Using the web interface
The Muundo data server's web interface can be used to configure the whole program. Simply open a browser, go to http://www.muundo.de and log in using your administrator account. You can then configure all users, testees/trainees and test procedures from a single location.
Standardised testee/trainee management
Whatever your requirements (one-off or recurring tests or training assignments), with Muundo the task of compiling test and training batteries is straightforward, as is their allocation to specific testees/trainees. Depending on the type of test, participants can then carry out the allocated test/training assignments using a mobile device such as a tablet or as a web-based test/assignment from any computer linked to the internet.
The responses provided by testees can be synchronised automatically with the Muundo data server and therefore made available for assessment either immediately after the test or at a later stage when an internet connection is available.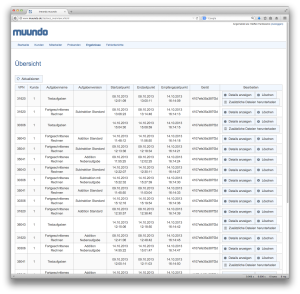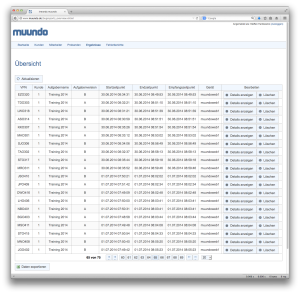 Central results management
The results of all the tests and training sessions conducted are compiled on the Muundo server. This means that the results of all tests for a particular testee or for an entire group of testees are always available for marking and assessment purposes.
Muundo features a simple download option for assessment purposes. This contains all the variables as recorded by us during the test or as calculated directly when the responses are given. This allows you to perform a statistical analysis of your data in whichever way you prefer or using the most suitable method for that data.
Further information
Individual compilation of test batteries from available test and training resources
Project-based separation of user pools and test results data
Project access restrictions based on user role
Test results downloadable in Excel format for further processing
Additional test-specific binary files (e.g. screenshots and audio recordings) also available to download
Modern web application based on JavaServer Faces 2
Encrypted communication with client devices via SSH