Goobi covers every aspect of project/workflow planning and management
Digitisation projects can vary tremendously, so Goobi has to satisfy many different criteria in terms of methodology and requirements. This is achieved by configuring a wide range of parameters. With Goobi, the task of planning, implementing and managing your digitisation projects is straightforward, even if those involved in the project are not all based in the same location.
Projects
Before starting work on your project, you will need to select the most important settings at project level. Each project can be individually configured and adapted to suit your organisation's specific requirements. This project-level configuration allows you to determine what should be the final outcome of the digitisation process. At this level, for example, you can also stipulate the form in which digitised texts are exported, e.g. to a presentation system such as the Goobi viewer. In most cases this will be the standardised METS / MODS format, which has now established itself internationally, although other formats (e.g. LIDO, MARC XML) have already been successfully adopted in a huge range of projects.
At project level, you can also decide which people to assign to the digitisation workflow. Projects involving particularly fragile materials, for example, can be configured in such a way that the source materials are only released for processing by a limited range of users. This may be necessary where a project requires the use of specialist equipment that can only be operated by those with the corresponding skills.
As well as configuring parameters at project level, you can fine-tune each project much more precisely within the central configuration directory. This concerns not only the parameters described above but also and especially those you wish to use in order to add new volumes or validate workflow content.
Workflows
As well as allowing the administrator to configure projects, Goobi provides a number of very detailed options for specifying behaviour in relation to individual workflows. As is the case with projects, here, too, there are no limits. Any number of workflows can be created via the user interface. Once specified, they apply to every volume that makes its way through the entire digitisation process on the basis of the selected workflow. This ensures that each volume is processed in exactly the right order as specified at the outset, e.g. for a project. In turn, any number of workflows can be defined for each project.
As well as specifying workflows, you can define very precisely the form in which new volumes are added in Goobi. The most common method for adding new volumes involves importing them from an existing catalogue. Using standardised interfaces (e.g. Z39.50 and SRU) it is possible to search and obtain data from almost any catalogue, thus avoiding the need for time-consuming data capture. Goobi simply imports all the data for which it has been configured.
Data can also be imported from other sources using other standardised interfaces. Thanks to the Universal Catalogue Interface and our own OAI Harvester, there are no obstacles to the automatic import of data from other sources.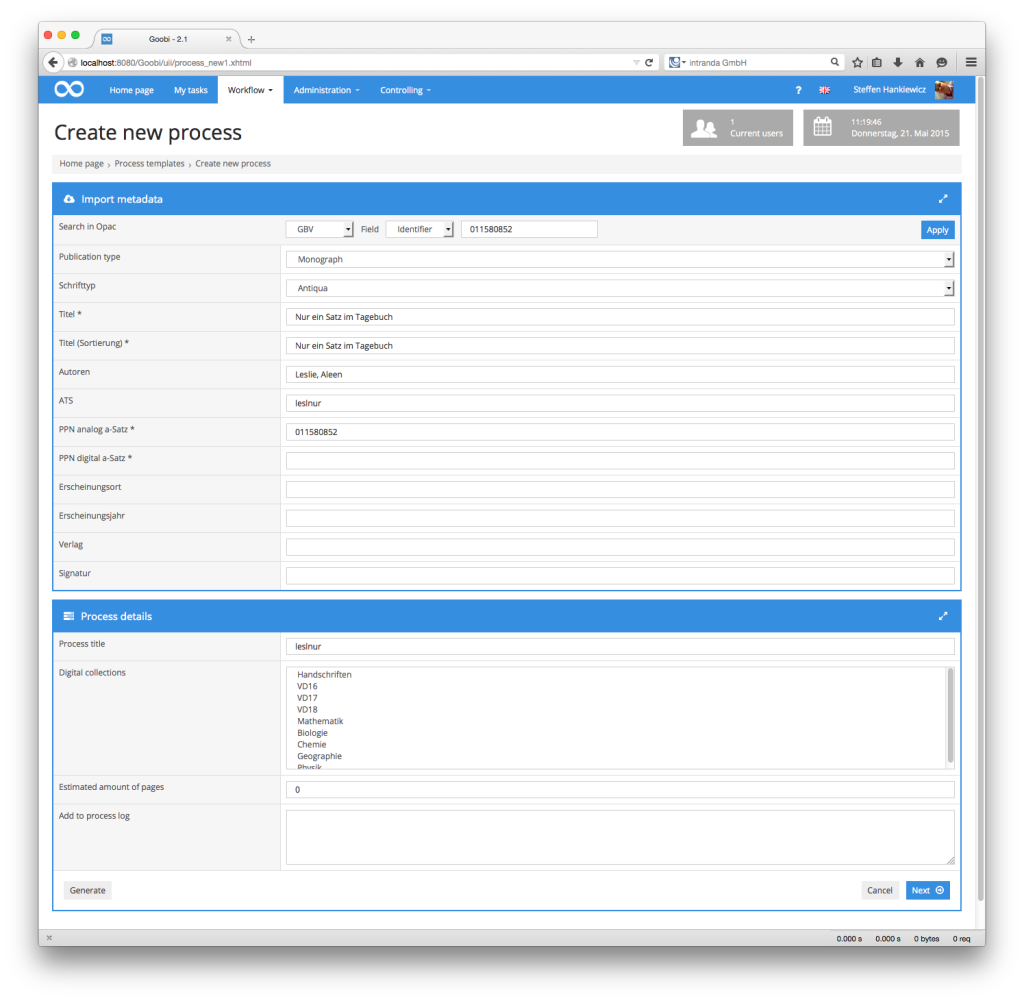 Goobi
Latest Release Notes
System requirements
| | |
| --- | --- |
| Operating system: | Linux |
| RAM: | 4 GB |
| CPU: | 4 cores |
| Hard disk: | 40 GB for operating system plus required data storage |
Get the software