Goobi Community in Action
In September the two Goobi days took place again in our newly expanded premises. As every year, there were many different presentations by speakers from different institutions. Numerous topics and projects were discussed, spontaneous training sessions were held and workshops organised (e.g. crowdsourcing, cropping images and even creating your own font types). For those who could not participate, the slides of the presentations are again available in the media corner. But of course it is better to participate in the user days yourself in the future.
Since September 2018 there has been a new community platform at https://community.goobi.io. This platform addresses a wide variety of topics. Questions are clarified. Ideas are collected. And even the further development is planned together. In the last three months alone more than 250 contributions have been written by many different visitors, e.g. about the Import of F-stages, the effort of cropping, the individual preview image generation, crowdsourcing planning, current developments up to optical adjustment of Goobi for display of unicorns.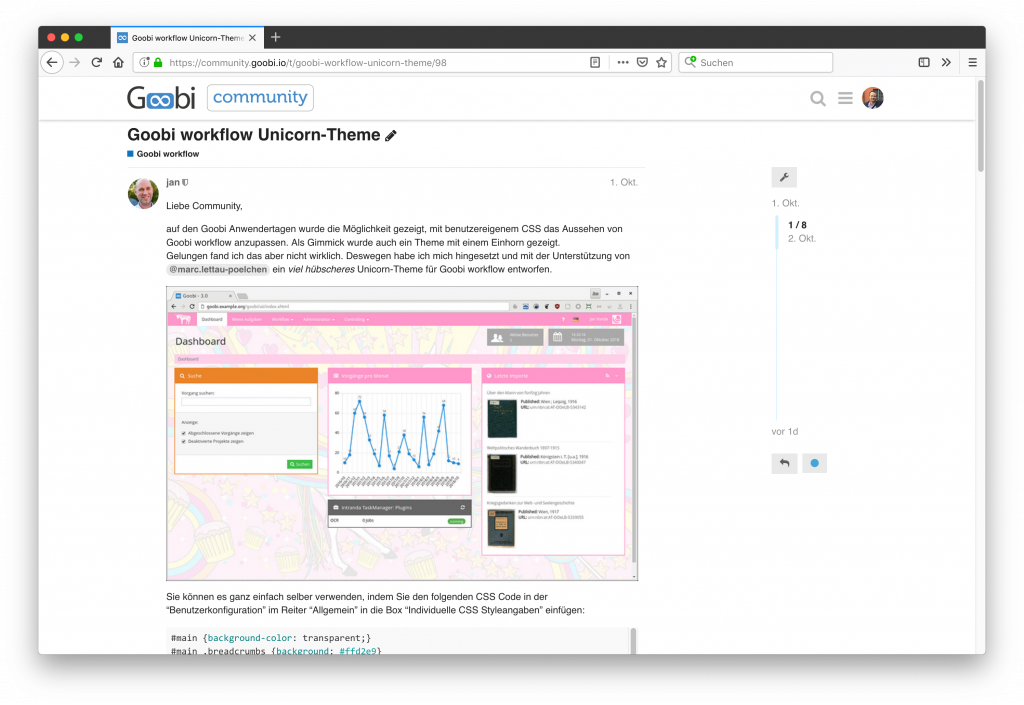 All this can now be found in a central place in the Goobi community, currently still mostly in German, and will soon be available in other languages:
And if you're wondering how to find out more about such news, just come to the next Goobi days. These will take place on 25 and 26 September 2019, again with us in Göttingen. And of course there is already a post about this in the community forum.